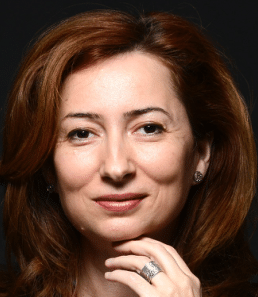 Cognitive Behavioral Coaching, MCC
Fellow ITOL
După câțiva ani de profesorat, ca absolvent de Limbi Străine, Letiția a intrat în lumea business-ului, lucrând la o companie de telecomunicații. Aici a fost martor, și mai apoi participant activ în managementul relațiilor cu clienții și în proiectul de transformare post-privatizare, contribuind la reinventarea unei companii pe o piață tot mai competitivă. În același timp, a avut primele experiențe ca trainer, înțelegându-le încă de atunci forța transformațională.
Își consolidează cunoștințele de management absolvind, în 2002, Open University Business School (UK) și devenind tutor în programul MBA pentru management performant și comunicare organizațională. În anii care au urmat, Letiția parcurge formări și obține licențieri internaționale în coaching: The Coaching Clinic (Corporate CoachU), Life Coaching (Oxford Learning), Neurocoaching (School of Coaching Mastery), Positive Psychology Coaching, Cognitive Behavioral Coaching (The Institute for Life Coach Training).
Din 2010 a devenit Fellow Institute of Training and Occupational Learning (ITOL, UK).
Coordonează și susține primele programe acreditate internațional de către ITOL: Codul meseriei de trainer – Train the Trainer, DIXIT – Ateliere de comunicare și Integral Team Coaching, un program școală destinat celor cu formare în coaching.
Din 2019 este reprezentant pentru România al Reinventing Organizations Map, un model de diagnoză organizațională.
În urma cercetărilor doctorale, Letiția creează și testează un model de diagnoză a agilității organizaționale, pe baza a trei piloni fundamentali: Strategie – Oameni – Structură. Scopul acestei diagnoze este de a oferi un ghid practic celor care se angajează în drumul spre dezvoltarea organizației agile, într-un context în care performanța și succesul sunt ținte aflate mereu în mișcare.
Articolele Letiției au fost publicate în numeroase publicații academice și de management. Cea mai recentă contribuție a sa, "Agility in the Organizational Context: Challenges in the 1st Year of Covid-19″ este capitolul 1 din volumul Emerging Trends and Strategies for Industry 4.0: during and beyond Covid-19, publicată de Editura Sciendo, Germany, 2021.