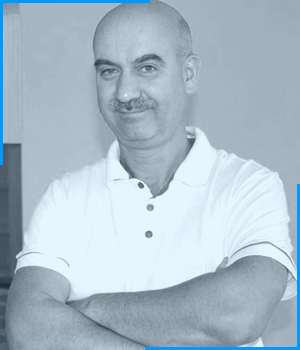 Dan Pricop, trainer și consultant, are peste 20 ani de experiență în industria învățării pentru adulți, în care a intrat în anii '90, după cei șapte ani în care și-a practicat meseria de bază, cea de inginer mecanic.
În 1995, Dan începe cursurile The Open University Business School (UK) pentru management competitiv, managementul relațiilor cu clienții și management financiar, dobândind în 1997 certificatul profesional în management. Mai apoi, în 2004, a obținut diploma profesională pentru managementul dezvoltării și schimbării și cel al resurselor de piață.
A început încă din 1996 activitatea de trainer și consultant, completând în timp studiile teoretice cu specializări: NLP Practitioner (2005), bazele coachingului (Alain Cardon, Coaching Institute – 2007), 360 Solutions (2008) și The Morgen Buying Facilitation Method (2009), Dan își începe, încă din 1996, activitatea de consultant și trainer.
Face consultanță în zona HR, deopotrivă pentru companii private cât și în programe PHARE, unde participă la elaborarea proiectelor, conduce workshop-uri și intră în una din zonele sensibile ale activității de HR, cea a serviciilor de preconcediere.
Ca senior trainer Evolutiv, Dan desfășoară din 2009 traininguri de resurse umane, dezvoltarea echipei și management general. De asemenea, de aproape zece ani coordonează programul de leadership pentru elevii de liceu Liderii Mileniului Trei® pentru regiunea Moldova, păstrând astfel legătura cu generația următoare.